Liv Immune Normoliv-Plus tablets build strong immunity for your body, while rejuvenating your liver, lungs and digestive system. Normoliv-Plus contains 11 magical Ayurvedic herbs that strengthen overall immunity.
The importance of building strong immunity
A weakened immune system has accelerated the onset of modern lifestyle ailments. This in turn has led to an invasion of life-threatening viruses, bacteria and fungi in our bodies, through the respiratory system.

Ayurvedic texts have laid out restorative elements in certain herbs that are rich in immuno-modulatory properties. Along with a balanced diet, Normoliv-Plus tablets prevent illnesses, remove toxins and strengthen your internal organs, to keep you fighting fit.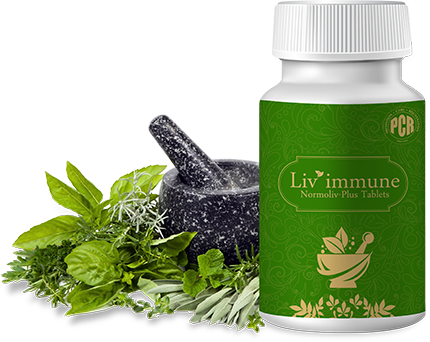 Normoliv-Plus helps steady post-COVID recovery
Continued therapy to further boost their immunity levels and prevent Covid-19 patients from relapsing, is an important facet of rehabilitation. It is highly recommended that Normoliv-Plus be included in a patient's post-recovery intake regimen.

This will further strengthen the affected organs to recuperate faster and counter the residual effects of the infection. Observations show that the rate of recovery is greatly accelerated in the case of patients taking Normoliv-Plus as a supplement.

Normoliv-Plus is therefore very effective in all the 3 stages: Prevention, Cure and Rejuvenation.